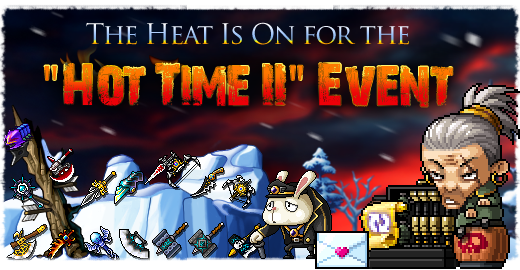 The forces of the Black Wings crack down and the heat is on for the Resistance! That sounds like a perfect time for another Hot Time event!
Experience the boiling hotness of Hot Time II at the following time:
Pacific: Wednesday, December 22, 2010, 2:00 PM – 2:01 PM
Eastern: Wednesday, December 22, 2010, 5:00 PM – 5:01 PM
Hours are based on server time as seen on the official MapleStory website.
On Wednesday, December 22, for one single minute, everyone who's logged into MapleStory will automatically receive a gift box in their inventory.*
Don't risk the chance of missing the hottest minute of the Resistance update and log in before 2 PM! Then, if you really must leave, wait until you have safely secured the gift box in your inventory.

How hot will this Hot Time be? You be the judge!
This time around, Cassandra' gift box will contain:


A chance to receive a Timeless weapon, Cash Shop item, or one of the various 60% scrolls!
A chance to win Free NX! If you're lucky, 5,000 NX! If you're super lucky, 10,000 NX!
One ultimate SP Reset Scroll!
One Unidentified Love Letter that randomly raises your Fame points!
Worried you might miss this very short event? Then log in early and stay awhile because from 1 – 3 PM Pacific (4 – 6 PM Eastern), we'll be holding a 2x EXP and Drop event!
* Please make sure you have space in your inventory to receive the item. If you were logged in during Hot Time and were unable to receive the item for any reason, you may still talk to Cassandra from 2:30 PM to 8:00 PM Pacific (5:30 PM to 11:00 PM Eastern) on December 22, 2010 to claim your gift box.