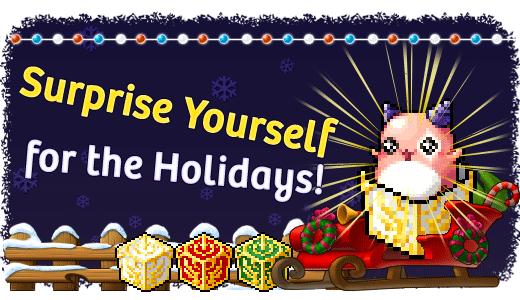 'Tis the season to be giving, so why not give yourself a happy Holiday Surprise?
Holiday Surprises come in Small, Medium, and Large for the Cash Shop and contain all sorts of wonderful holiday treats! What can you find? Just open it and it might contain:
- The discontinued 4-Hour 2x EXP Special Coupon!
- Vega's Spell (60%)!
- AP Reset!
- Permanent decorative items!
You might find rare items such as:
- Pam's Song!
- Permanent Kino!
- 30-day Mushroom House: Employee Elf!
- Permanent Pink Bean with pet equips!
These jackpot items are available in all three Small, Medium, and Large boxes along with all items guaranteed to be worth at least the cost of the Holiday Surprise you purchased!